In-Game Description
Edit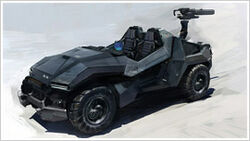 "The Light Attack Vehicle (LAV) represents a new generation of mobile support vehicle, an agile and effective unit, adept at assisting both infantry and other vehicles on the battlefield with its cadre of electronic warfare subsystems and all-terrain manoeuvrability modules. Whether employed as a scout vehicle or as an anti-infantry unit, the LAV is a ubiquitous part of New Eden's modern battlefield."
The LAV is a fast agile vehicle that can be used to quickly traverse the battlefield. LAVs are somewhat lacking in offensive capability; but they still can be equipped with a variety of useful support modules.
One of the most useful things about the LAV is how lacking in offensive capability it is; a full squad of 6 can arrive at a scene in 2 LAV's; which seemingly pose little threat. This element of surprise derived both from speed of deployment and underestimation makes LAVs very useful for storming enemy positions.
Variations
Edit
Militia
Standard
Logistics
Prototype
Ad blocker interference detected!
Wikia is a free-to-use site that makes money from advertising. We have a modified experience for viewers using ad blockers

Wikia is not accessible if you've made further modifications. Remove the custom ad blocker rule(s) and the page will load as expected.