In-Game Description
Edit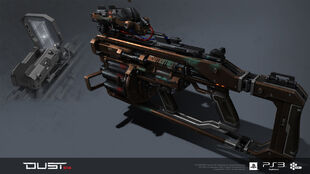 "The Mass Driver is a semi-automatic, multi-shot grenade launcher useful as both a breaching tool and area denial weapon. Firing smart HIND explosive rounds, the weapon is highly effective against all forms of Dropsuit and light vehicle, while it's lightweight frame and compact design make it easy to wield in both urban and open terrain engagements"
The Mass Driver is a relatively common weapon used for it's "area denial" aspect, which allows choke-points and open areas to be bombarded with grenades, allowing entire attack fronts to either be closed off, or made very expensive to an enemy's attacking force to cross through. It can also be used to attack enemies behind cover, or from the safety of cover, thanks to the fact that the projectile has a parabolic trajectory.
Additionally, the Mass Driver can be used to attack Light Vehicles and possibly unshielded Dropships (if they are in range).
As an Explosive Weapon, the Mass Driver has a +20% damage bonus to armour, and a -20% damage penalty to shields.
Variations
Edit
Table Of Comparison
Edit
Comparison

| | Mass Driver | 'Tsunami' | Breach | 'Cyclone' EX0-5 | EX0-5 | EC-3 Assault | EK-A2 Breach | 'Avalanche' Freedom | Freedom | 'Construct' Freedom | Boundless Assault  | Core Breach |
| --- | --- | --- | --- | --- | --- | --- | --- | --- | --- | --- | --- | --- |
| CPU | 36 | 36 | 36 | 51 | 51 | 56 | 51 | 93 | 93 | 93 | 102 | 93 |
| PG | 5 | 5 | 5 | 7 | 7 | 9 | 7 | 14 | 14 | 14 | 16 | 14 |
| Cost | 1,500 ISK | 30 AUR | 2,460 ISK | 40 AUR | 6,585 ISK | 10,770 ISK | 10,770 ISK | 50 AUR | 47,220 ISK | 45 AUR | 77,280 ISK | 77,280 ISK |
| Direct Damage (hp) | 242.0 | 242.0 | 338.80 | 254.10 | 254.10 | 152.46 | 355.74 | 266.20 | 266.20 | 266.20 | 159.72 | 372.68 |
| Splash Damage (hp) | 116.0 | 116.0 | 81.20 | 121.80 | 121.80 | 73.08 | 85.26 | 127.60 | 127.60 | 127.60 | 76.56 | 89.32 |
| Blast Radius (M) | 4.0 | 4.0 | 3.0 | 4.2 | 4.2 | 6.3 | 3.15 | 4.40 | 4.40 | 4.40 | 6.60 | 3.30 |
| Clip Size | 6 | 6 | 6 | 6 | 6 | 8 | 6 | 6 | 6 | 6 | 8 | 6 |
| Max Ammo | 18 | 18 | 18 | 18 | 18 | 27 | 18 | 18 | 18 | 18 | 27 | 18 |
| Rate of Fire (RPM) | 60.0 | 60.0 | 46.15 | 60.0 | 60.0 | 75.0 | 46.15 | 60.0 | 60.0 | 60.0 | 75.0 | 46.15 |
| Reload time (s) | 4.0 | 4.0 | 4.0 | 4.0 | 4.0 | 4.0 | 4.0 | 4.0 | 4.0 | 4.0 | 4.0 | 4.0 |
| Meta Level | 1 | 3 | 2 | 4 | 4 | 5 | 5 | 9 | 8 | 9 | 9 | 9 |
| Skills Required | Mass Driver Operation I | None | Mass Driver Operation II | Mass Driver Operation I | Mass Driver Operation III | Mass Driver Operation IV | Mass Driver Operation IV | Mass Driver Operation III | Mass Driver Operation V | Mass Driver Operation V | Mass Driver Proficiency I | Mass Driver Proficiency I |